Denali Bus Tours in 2023: All Your Options Explained
My blog posts likely contain affiliate links, including for the Amazon Associates program.
If you click, book, or buy from one of these links, I may earn a commission. Read more in my Privacy Policy.
I can't deny: Denali National Park is one of my favorite places on earth. If you ever talk with me in person about Alaska, you'll quickly realize it's true; I am passionate about protecting the park and believe everyone should visit it at least once – and preferably more than that!
You see, I was lucky to grow up in Alaska, and spent a summer working in Denali for one of the major cruise lines. I've taken the Denali bus tours more times than I can count, and have even driven into the park with my family when we won the Denali Park Lottery one year. I've introduced many people – ex-boyfriends, my college best friend, and my husband (Mr. V) – to Denali over the years, and never get tired of visiting. Heck, I visited Denali twice in 2021 and again in 2022 – and still want to go back on my next trip.
As you plan your own Alaska itinerary, you might have questions about the bus tours in Denali, which ones to choose, and updates on the headlines about the park in 2023 specifically. In this post, you'll learn everything you need to decide which Denali bus tour to book.
So read on: discover the different Denali bus tours available in 2023, which ones are worth it, and even a few alternatives to help you see Denali National Park in a completely different way. Denali is a very special place, and I can't wait for you to experience it for yourself.
In this post, I promote travel to a national park that is the traditional lands of the Tanana peoples. With respect, I make a formal land acknowledgment, extending my appreciation and respect to the past and present people of these lands. To learn more about the peoples who call these lands home, I invite you to explore Native Land.
This post was originally published in December 2021, and was updated in December 2022 for next year.
Complete List of Denali Bus Tours
Before jumping into the specific details of Denali bus tours this coming year (2023), I wanted to list all of the available bus tours in Denali during a normal year.
Typically, buses ran a variety of lengths in a single day, from as short as 17 miles (one way) to the entire 92-mile (one way) length of the road. Guests were able to choose what length of bus tour they wanted based on what they hoped to see, ranging from 3 to 12 hours in length. Here are the standard Denali bus tours:
| Tour | Turnaround | Duration |
| --- | --- | --- |
| Denali Natural History Tour | Mile 17 | 3-4 hours |
| Tundra Wilderness Tour | Mile 42 | 6-7 hours* |
| Eielson Excursion | Mile 66 | 8-9 hours |
| Kantishna Wilderness Trails** | Mile 90 | 12 hours |
| Kantishna Experience | Mile 92 | 12 hours |
| Denali Backcountry Adventure** | Mile 92 | 12 hours |
*Normally 7-8 hours but limited in 2023 due to road closures in Denali National Park
**Operated by a third-party company, not the Park Concessioner Doyon Limited-Aramark
However, as you'll see in the rest of this post, not all of these bus tours are operating in Denali this year. And there's a very good reason why: the road is closed beyond Mile 43 in 2023.
Status of the Denali Park Road in 2023
Unfortunately, the scenery in the image above will not be seen by anyone on a bus tour in 2023. In August 2021, an ongoing but accelerating landslide in the "Pretty Rocks" area – where the National Park Service had already been working to reinforce the road – caused the road surface to drop over 21 feet in just one month.
The Pretty Rocks Area has been a frustrating part of the park road for years; while the road used to slump about 1-2 inches per year before 2014, that rate has increased such that the road was slumping over one inch every two hours in 2021. Issues with the road caused some closures in 2019 and 2020 but got so bad this last year that the Park Service closed the entire road in August, cutting off the tail end of the 2021 season. Think of it as a slow landslide that has gotten faster in the past few years.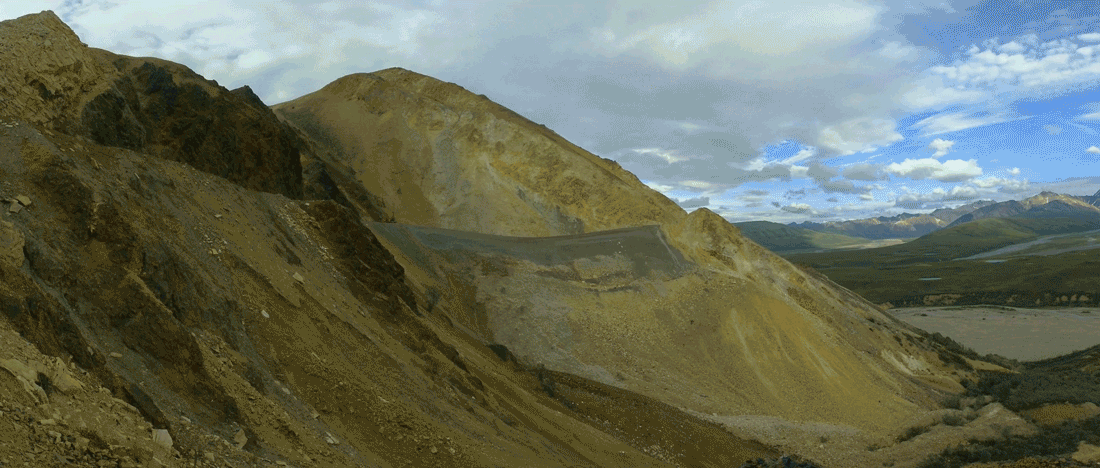 Scientists aren't quite sure of the cause, though climate change is a very strong contender. Denali National Park has experienced the greatest increase in temperature of any National Park (7.7°F ± 2.0°F per century), which has increased mean temperatures above freezing throughout the year and led to increased rainfall (source, source). All of this has combined to destabilize the roadway, which is carved into the side of the mountain.
No matter the cause, the National Park Service estimates it will take at least all of 2023 and 2024 to rebuild the road – if not longer. As there is only one road in and out of Denali National Park, all bus tours must turn around before the damaged area. This means that no bus tours will go beyond Mile 42 in 2023, and has created substantial changes in the options available for Denali bus tours in 2023.
Denali Bus Tours in 2023
So where does that leave us for Denali bus tours in 2023? Well, the options are limited – there's no way around that. But there are options! Denali National Park is still open to visitors, and the bus tours in 2023 are still a great way to see the park. No matter which bus tour you choose, be sure to book in advance – bus tours and transit buses sell out!
Denali Natural History Tour
The first Denali bus tour available is the Denali Natural History Tour (DNHT), a short version that's perfect for those who can't sit for extended periods of time but still want to explore a bit further into the park than the 15 miles you can drive a private vehicle.
This 3-4 hour tour goes to Primrose Ridge, at Mile 17 of the Denali Park Road. Primrose Ridge offers a great view of Denali on a clear day, making it a perfect tour for those who are especially keen to see the mountain but less concerned with spotting wildlife. Bus driver-guides will narrate the geologic and natural history of Denali National Park during the tour.
The DNHT is offered from May 12 to "mid-September" in 2023, and costs $114.00 for adults and $49.50 for children. Click here to book.
Tundra Wilderness Tour
The Tundra Wilderness Tour (TWT) has long been my go-to recommended tour for everyone visiting Denali National Park who can handle sitting for a long time. Typically, this is an 8-hour tour that goes to Stony Dome at Mile 56, but that obviously won't happen this year due to the road closure.
Instead, the TWT will operate as a 6-7 hour tour to the East Fork Cabin at Mile 42. This is a great opportunity to go deep into Denali National Park – nearly half the length of the entire Park Road, and spot wildlife in addition to the mountain herself on a clear day. During the tour, your driver-guide will narrate the tour, point out wildlife, and take plenty of stops for photos and "bio breaks" where facilities are available.
If you're trying to choose between the DNHT and TWT, I always advocate for the longer tour that goes further into the park. The only exceptions to this would be for people who can't sit that long or with small children who won't do well on a multi-hour tour with no cell service to keep them entertained.
The TWT is available from May 20 to September 14 in 2023, and costs $141.25 for adults and $63.25 for children.Click here to book.
If you're wondering whether the Tundra Wilderness Tour is still worth it with the road closure, I've shared my experience riding this shortened route in September 2021 in the next section.
Transit Buses
One final way to get into Denali National Park is on the transit buses, which are green rather than tan like the DNHT and TWT buses. These buses typically run campers and hikers into various parts of the park, but those who want a more budget-friendly, less touristy option can take them in and out of the park too. Transit buses are not narrated, so you won't get the same experience as the tour buses.
Transit buses, like all buses, will only run to Mile 43 in 2023, and cost $32.75 for adults, and are free for children.Click here to book.
If you are planning to ride a transit bus into Denali to go backcountry camping, backpacking, or hiking, you can still ride the camper bus to Mile 43 and hike from there.
Is the Tundra Wilderness Tour Worth It?
So is the Tundra Wilderness Tour still worth it, despite the road closure? Heck, is it even worth it to visit Denali National Park at all in 2023?
First of all, don't be silly: skipping Denali National Park because the road is closed at the halfway point is what my mother calls "cutting off your nose to spite your face." Of course, Denali National Park is still worth visiting! There's so much more to do in Denali than just the bus tours; I always advise people to spend 2-3 days in Denali to experience it all – and only one of those days is spent on a bus tour.
But speaking specifically about the bus tours and my go-to recommendation for the Tundra Wilderness Tour, yes, the TWT is still worth it even with the road closure.
I was fortunate to visit Denali twice in 2021, once in August as part of my adventure with John Hall's Alaska (before the road closure) and once in September after. Mr. V was with me on that second trip, and I didn't hesitate for a moment to forge ahead with our plans to do the Tundra Wilderness Tour during our trip. I knew it would be truncated and miss some of the best scenery (it's not called "Pretty Rocks" for nothing!) – but I also know that the TWT is the best way to see the mountain and wildlife in Denali National Park.
We made the 43-mile journey in early September, and it was absolutely worth it. On our 6.5-hour tour, we saw bears, moose, caribou, and Dall sheep – four of Denali's Big 5. We also had epic views of Denali the mountain several times during the tour, including at two stops we made to stretch our legs.
While I can't promise you'll have exactly the same experience we did – the weather was very cooperative, and we saw a good amount of wildlife – I can promise that there is no better way to explore Denali National Park in 2023 than on the Tundra Wilderness Tour.
Bus Tours that are NOT Offered in 2023
Before wrapping up this post, I want to very clearly state which Denali bus tours are not operating in 2023:
Eielson Excursion – An extended version of the Tundra Wilderness Tour, the Eielson Excursion used to run to the Eielson Visitor Center at Mile 66. This tour will not be operating this year.
Kantishna Wilderness Trails – This 12-hour, 90-mile bus tour is usually operated by the Kantishna Roadhouse, which has not yet announced whether they are opening for fly-in visitors* in 2023.
Kantishna Experience – This is the longest tour offered through the National Park Service, and used to traverse the entire 92 miles of the road with a park ranger aboard the bus. It won't be happening in 2023.
Denali Backcountry Adventure – Operated by Denali Backcountry Lodge, this is another 92-mile tour that won't happen in 2023; it's also not certain whether the Lodge will open this year for fly-in visitors*.
Toklat/Eielson/Wonder Lake/ Kantishna Transit Buses – As I stated before, transit buses will turn around at Mile 43 like all other buses. If you were planning to take a transit bus further into Denali National Park this year, such as to the Toklat River or Wonder Lake, you'll have to disembark at Mile 43 and hike the rest of the way in.
Additionally, the Denali Park Lottery – which allows private vehicles to traverse the Park Road in late September each year – will be limited in 2023. While details haven't been announced yet, it's safe to assume that if it happens, it too will require a turnaround at Mile 42.
*All properties in Kantishna can receive fly-in visitors thanks to Kantishna Air Taxi (more on that below). However, this will add a considerable cost to the already-spendy stay, so won't work for most Alaska travelers.
The "New" Denali Backcountry Adventure
After first publishing this post in 2022, I was tipped off to a new bus tour. It's called the Denali Backcountry Adventure, and is operated by Pursuit Alaska – but it is not the same tour as the previous Denali Backcountry Adventure and doesn't even operate in Denali National Park.
I had the chance to do this tour in August 2022, and wrote an entire Denali Backcountry Adventure review to help you understand what this tour is like. However, there are a few points of potential confusion I want to address here:
This tour does not operate in Denali National Park. The Denali Highway is on public/private land, so you won't officially be in/visiting the National Park.
The tour drives along the Denali Highway, which is not to be confused with the Denali Park Road. The Denali Highway connects Paxson and Cantwell and was the original route that brought auto travelers to Denali National Park before the Parks Highway opened in the early 1970s (learn more Denali history here).
The park tour departs from Denali Cabins, not the Nenana Canyon area. Shuttles are provided if you're staying at any of the other hotels in the Denali area (here's where I recommend staying in Denali.)
Be sure to check out my entire review of the Denali Backcountry Adventure for full details.
Since updating this post for 2023, I've learned that the Denali Backcountry Adventure won't be operating next year (2023). If this changes, I'll update this post.
Other Ways to See Denali in 2023
If you're feeling a bit depressed about your options for visiting Denali this year, don't! The TWT is still a great experience, and there's another fantastic way to see Denali National Park: flightseeing.
I always recommend splurging on a flightseeing tour during your Alaska trip, and Denali is the place I most often recommend doing so. Here are the best options.
Fly Denali Glacier Landing Tour
I first took the Glacier Landing Tour from Fly Denali in 2007 while working for Holland America Line in Denali. It blew me away, and I've been dying to do this tour again ever since.
Mr. V and I took the tour again in 2021, and even 14 years later, it's still the most awesome experience we had (in my opinion anyway!). Fly Denali has new ownership but is still the coolest way to go flightseeing in the park. You'll follow the park road in before diverting across the glacial landscape surrounding Denali. Then you'll land on a glacier flowing down from the mountain herself, where you spend 20 minutes throwing snowballs, making snow angels, and being generally awed at your surroundings. Finally, you'll fly back out along the park road, spotting wildlife before touching down in Healy.
I think this is the best way to see Denali hands-down, and I'm not the only one; click here to read some quotes from other folks I recommended book with Fly Denali in the past.
Kantishna Air Taxi
NOTE: Kantishna Air Taxi cancelled their 2022 season; they have not yet announced whether they will operate in 2023. I'll update this section once info is available.
Kantishna Air Taxi is another option for flightseeing in Denali. I had the opportunity to fly with them during my August trip; we took off and landed from Kantishna where I was staying, but they also offer flights from Healy. They don't offer a glacier landing tour, but have a number of other flightseeing routes to get you up close and personal with the mountain.
In addition, the team that owns Kantishna Air Taxi also owns Skyline Lodge in Kantishna (Mile 90 on the Park Road). I assume they plan to open for the 2023 season and may offer a fly-in/out package for guests. When I win the lottery in the next few months, this is what I'll be planning for Mr. V and me, on our next trip!
K2 Aviation (Talkeetna)
For a third option, consider booking a flightseeing tour with K2 Aviation, based out of Talkeetna. This is a great option if you're planning to spend a day or night in Talkeetna on your way to/from Denali. They also offer a glacier landing tour in Denali, and usually land on the same glacier as the Fly Denali team; the approach from Talkeetna is different than from Healy though, so you'll see an entirely different part of Denali National Park during your flight.
And there you have it: a breakdown of the Denali bus tours available this year, as well as alternatives if you want to experience the park in a different way. Have questions about the Denali bus tours in 2023? Let me know in the comments!
Plan Your Denali Adventure!
The Complete Denali Guide will give you all the info you need to plan your Denali trip in one convenient place.
Get my 55-page ebook for just $9.99!
(Or buy a bundle of city guides and save!)